Q: Who played Iola Morton in the "Hardy Boys" serials on the Mickey Mouse Club? Was she one of the "original" Mouseketeers?
Dave, Denver, Colorado
A [
Dave Smith
]: Iola Morton was played by
Carole Ann Campbell
. The young actress was not a Mouseketeer; she retired from acting shortly after the serials aired. She passed away in March 2010 from cancer, at the age of 65.
[Marcio Disney]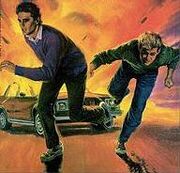 Moments after Iola is killed in a car bomb.
In "Hardy Boys", Iola Morton was Joe's girlfriend in about every series but the Casefiles. In the Casefiles she is killed by a bomb meant for Frank and Joe. Her death seriously affected Joe and he was grave and quiet after her death for a long time.
She is described as Chet 's sister and has dark hair, with a pixie like face. She kept a very detailed diary and liked sending audio tapes to friends instead of writing letters. However, in the Hardy Boys Undercover Brothers series, she is alive and well and was Joe's girlfriend in Ocean of Osyria. She was working at Phil's Phries and Phranks to pay for a trip to Montreal in Murder at the Mall.
Hand-picked by Walt Disney for the role, Carole Ann Campbell had some stage, film and television experience before appearing in both Hardy Boys serials as a younger female tag-along to the boy detectives. A singer as well as an actor, she left performing behind after finishing high school.
Released Christmas Day 1955, the film had the fifth highest gross take of 1956. Carole had some poignent scenes in this, playing Lillian Roth as a child. She later related that when called upon to cry on camera, the director had her imagine a little puppy being hit by a car, the same technique reported by Margaret O'Brien and other child actors. Her performance impressed Walt Disney, who personally ordered that she be hired for the role of Iola Morton in the upcoming Hardy Boys serial, according to contemporary newspaper accounts.
About the same time as her second Disney serial, Carole had an uncredited bit part in a 20th Century Fox teen film called Bernadine (1957). Her last on-camera performance followed a year later, when she guest starred in an episode of the western series 26 Men. The end of her acting career may have been her own choice.