Q: I used to live in Northern Nevada and would visit Squaw Valley at Lake Tahoe often. A friend showed me a home there and said it was Walt Disney's home during the Olympic Games. It is an adorable home, it looks like Snow White could walk out the door at any moment. Is this story true?
Debby, Windermere, Florida

A [by Dave Smith]: Walt Disney did have a vacation home he used at Squaw Valley at the time he produced the pageantry for the 1960 Winter Olympic Games, but I do not know its location.

[More to See by Marcio Disney]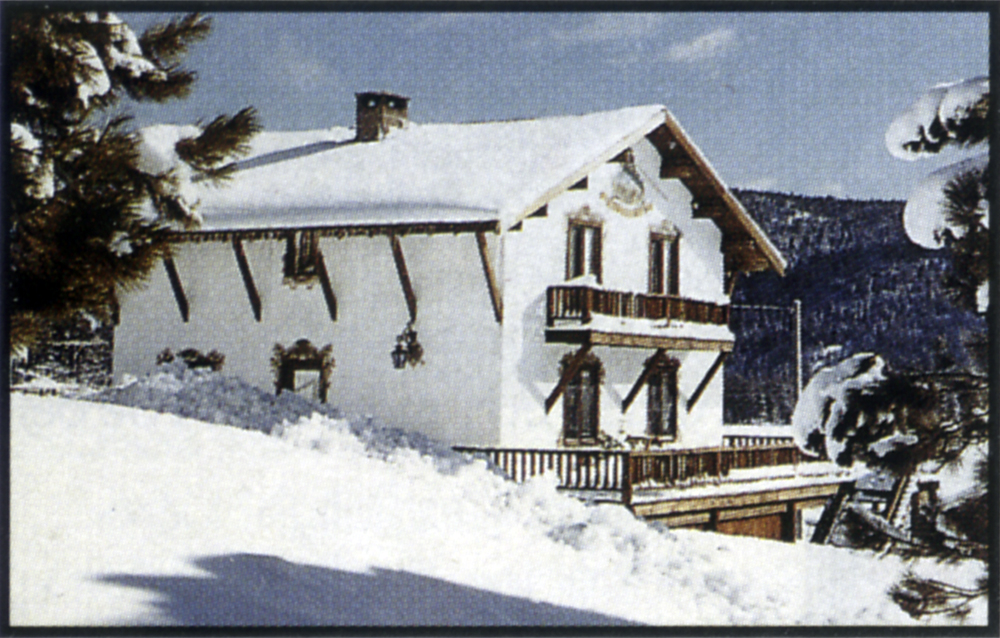 Walt Disney's home during the Olympic Games
Walt was named the Chairman of Pageantry for the Games, and went to work crafting plans for the Opening and Closing Ceremonies.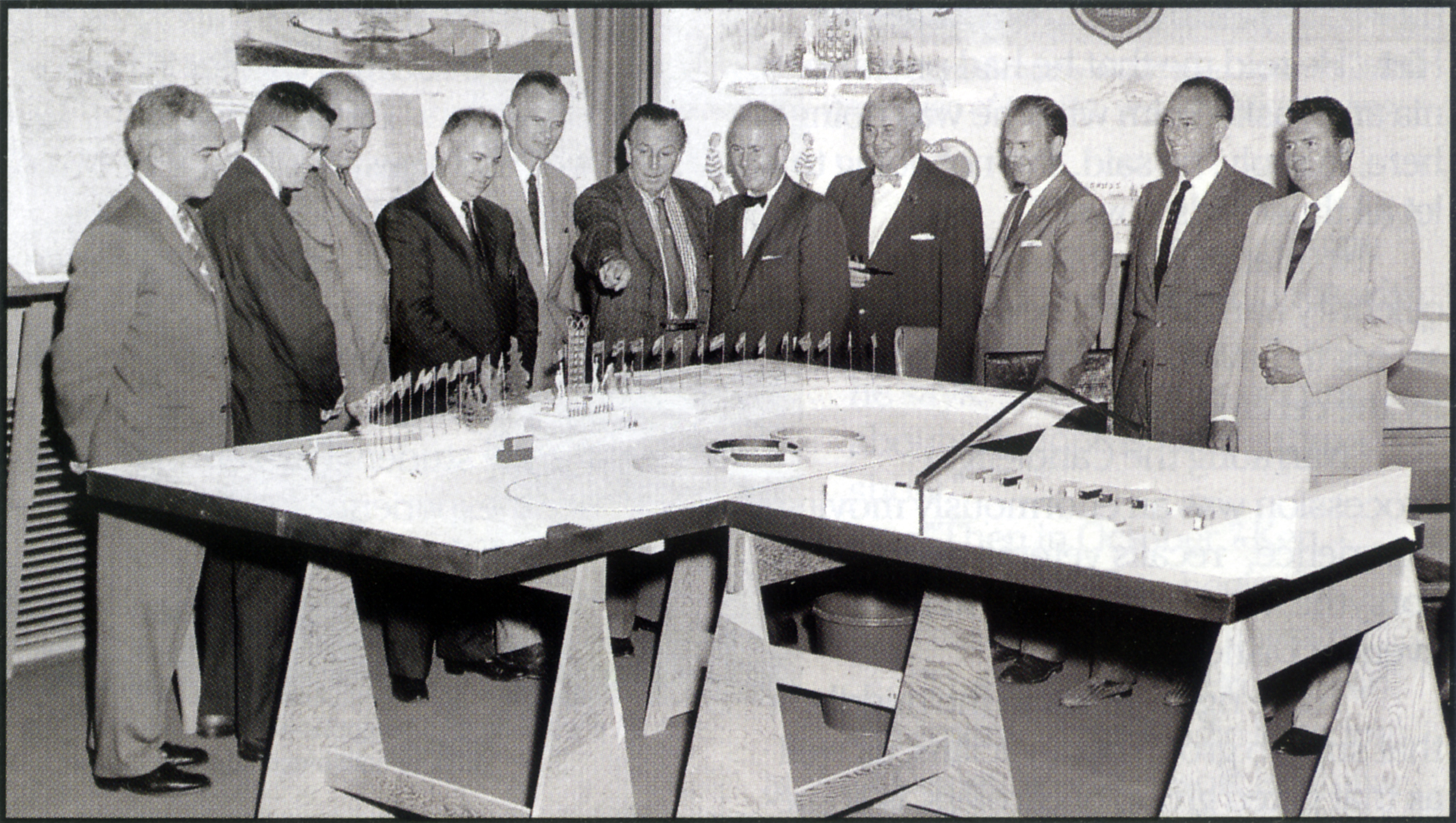 "Dr. Charles Hirt (second from far right) was among the team Walt assembled to create the opening ceremonies for the VIII Winter Olympics in 1960."
http://progresscityusa.com/2010/02/13/walt-disney-and-the-winter-olympics/
"

Walt and his team were heavily involved in the planning of the Squaw Valley Olympics; the site for the Games was so remote that it was the first Olympics ever to lodge athletes in an Olympic Village. Disney and his friends like Art Linkletter made sure there was a constant stream of entertainment and entertainers on hand to stage nightly productions for the athletes. Disney's artists also contributed, with John Hench designing a series of snow sculptures for the venue and even the Olympic torch itself

."
1993
Disney News
article:
Dr. Charles Hirt: The Miracle at Squaw Valley by Scott Richter

February 18, 1960, is a day that renowned choir director Dr. Charles Hirt will never forget. The opening day ceremonies of the VIII Winter Olympics in Squaw Valley, California, were to be held that day. Nearly two years earlier, Walt Disney had accepted the post of Pageantry Committee Chairman and had named Dr. Hirt as the program's choir director.
On the morning of the 18th, Dr. Hirt was sleeping soundly at Walt Disney's private chalet in Squaw Valley when he was awakened by Walt and his other houseguest, Art Linkletter.
Hirt recalls that "Walt and Art told me that it had started to snow even though it had been predicted that it would not. There was a real blizzard out there."'
In fact, Mother Nature seemed intent on cancelling the opening day ceremonies, wasting months of meticulous preparation in the process. Between 6 a.m. and 1:45 p.m., Squaw Valley was pounded by freezing winds and buried under 10 inches of snow.
Later that day at rehearsal, Dr. Hirt says that "I stood up there (at the podium) facing what I thought was the choir – and I hoped and prayed it was, because I couldn't see them, the snow was falling so hard. Clarence Sawhill (the band director) relayed my beat to the band because he couldn't see the choir either.
"Walt Disney and the rest of us got together," he continues, "and we all said 'What in the world are we going to do if we can't see the choir and the choir can't see us?' The alternative was to assemble on a skating rink where we would only be able to select a few choirs and a few bands which would fit in there.
"Walt turned to me and said, 'What do you think we should do?' I told him that I couldn't stand the thought of saying to these people who had worked so hard for so many months that only some of them could be among the bands and choruses in the skating rink."
Some 3,700 high school musicians and choir members had spent many tireless hours rehearsing for the program, and had then traveled from 52 California and Nevada schools to brave the arctic-like conditions. All for the privilege of performing at the Opening Ceremonies for the Olympics.
On the other hand, the eyes of the world were on Squaw Valley, and network television officials were concerned that they would have no opening ceremonies at all for their worldwide broadcast.
Hirt recalls that "the TV people said 'We've got to play it safe. We can't take a chance on this.'"
Nevertheless, Hirt remembers that "they turned to Walt and said, 'It's up to you.' And he turned to me and said, 'Charles, I'll go with whatever you say.' I told him, 'Walt, I can't say to select a few and play it safe. Let's dare to have everybody in this.' That's all Walt needed to hear. Over the loudspeaker we told everyone to go into formation.
"The clock ticked down to showtime," Hirt recalls, "and at that moment, the sky parted and the sun shone. It was a miracle. My choir was in front of me. I could see them. Clarence could see his band, and he could see me. And the program went off without a hitch.
"Then, just at the very close of the final Olympic hymn, the sky covered up again and the blizzard resumed."
Dr. Hirt says that "to be a part of that 'Miracle of Squaw Valley' with Walt was a very special honor," and one of the highlights of his career.
"Walt was such a marvelous person … he was so highly respected and loved by the people who knew him. I got to know him well when I stayed with him at his (Squaw Valley) chalet."
Although retired now, Dr. Hirt still enjoys visiting Disneyland where he created and led the Christmas Candlelight Procession Ceremony for 25 years.

"Disneyland is still Walt," says Hirt. "His spirit is still there."
Everyday, Disney fans send dozens of questions for Disney Chief Archivist Dave Smith. Here are Dave's answers to your questions. Check back every day for a new post with a new question.

Dave Smith (born October 13, 1940) was the Walt Disney Archives founder and chief archivist which is located in the Frank G. Wells Building at Walt Disney Studios in Burbank, California. He joined the company June 22, 1970. Forty years later, on July 2010, he retired.
ºo

º

Marcio Disney Family of Sites Network
º
o
º